Saturday, 12 october
10:00-12:00
ABF:s danslokal, Järntorget 8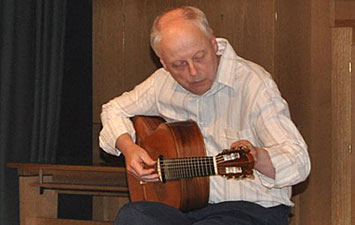 A guitar workshop will be held during the festival by one of Sweden's foremost folk guitarist – Jan Ekedahl.
Jan will teach the fundamentals of accompanying Irish traditional music and also fingerpicking technique for playing melody on the guitar.
There is space for a total of 12 participants.
The registration fee is 250 SEK (incl. service fee).
The doors will open on Saturday morning at 09:40. Please make sure to be there in time, since the workshop will start at 10:00 sharp.
Since the teaching is done completely by ear, we recommend that you bring a recording device.
You should have a few years' experience in your instrument to be able to make full use of the workshop.
There's also a concert with Jan on Saturday, please see the festival programme.